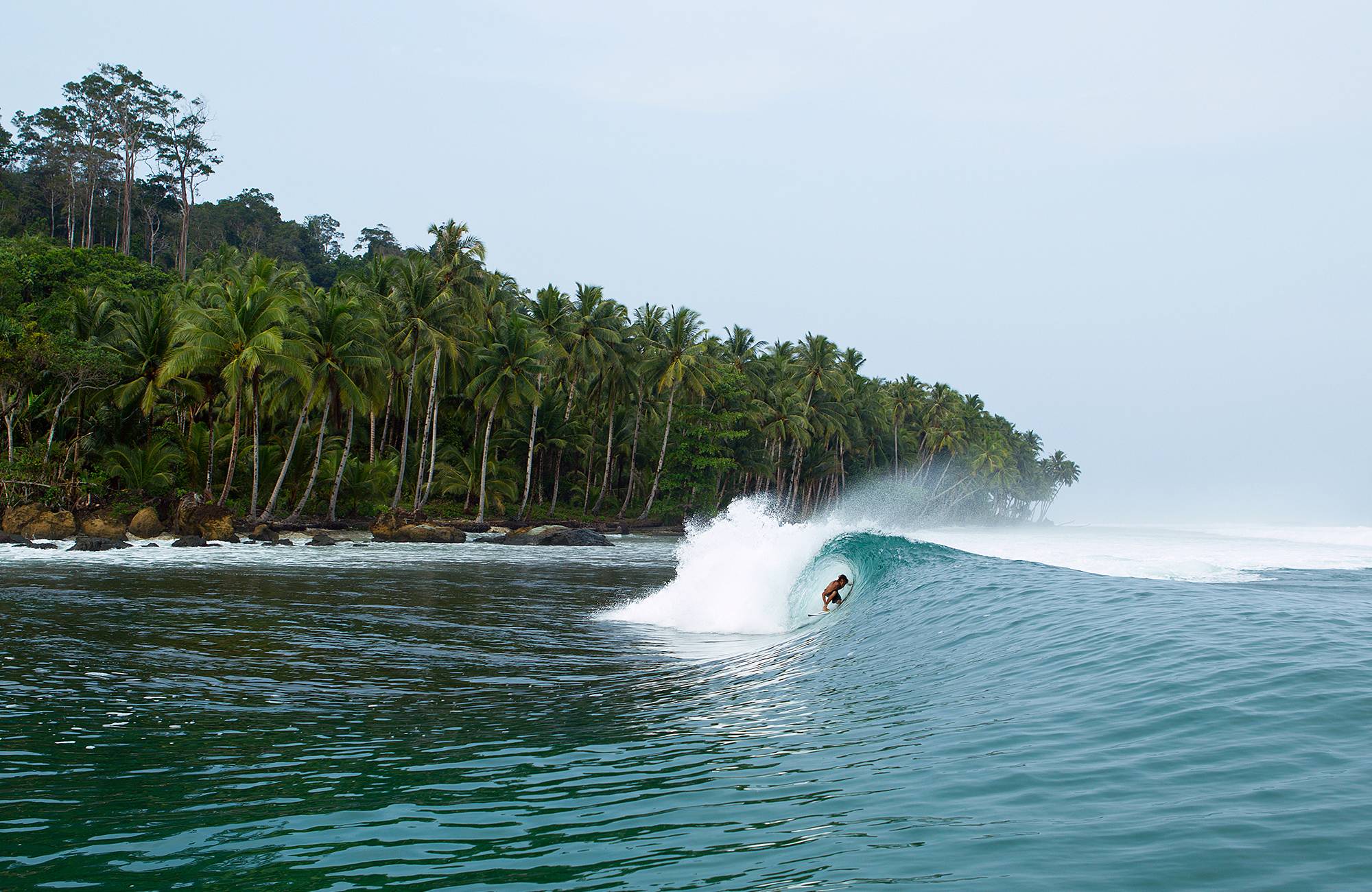 INFO:
The boat trip will start and finish in the city of Padang, West Sumatra. From there we will head to the Telos archipelagos, exploring dozens of waves of all kinds and for all levels, under private guidance and according to your preferences. The Telos archipelago lies just north of the famous Mentawai islands, receiving the same swells, and the waves are very similar. The main difference between the surf in these two archipelagos is the absence of crowds in the Telos.
Our guide will be Gonçalo Ruivo and he will be our host and surf-guide in this boat trip. He comes from Portugal and he is been guiding surf trips in Sumatra for the last 15 years. He has an Ocean Master's license so he will be also supervising the navigation and safety on board. Beside Gonçalo, the boat crew is composed by 7 Indonesian experienced seaman: Captain, mechanic, Chef and his assistant, 2 deck-hands and myself as surf coach. We will be 9 professionals focused in providing you the best surf trip of your life.
COACHING INCLUDES:
2 video sessions a day, daily video analysis, coaching in the line up when needed, at the end of the trip you receive all your surfing footage.
WAVES AND SURFBOARDS:
The average wave size in Sumatran islands is 1-2 meters. Very seldom it becomes bigger than that.
Most surfers bring 3 surfboards for a boat trip. We recommend a quiver similar to what you use at home, within 5'8'' and 6'8'' (depending on your height/weight), maybe with a bit more volume to make it easier to catch the fast Indonesian waves. All the waves break over coral reefs so at low tide, and/or on a small swell, it's advisable a careful approach as you will be surfing on shallow waters. Bring reef-shoes although you won't need to use it all the times. Usually all surfers manage to deal with coral reefs without problems, even those not used to it.
Our surf-guide is always ready to assist and advise you on the surf conditions of each surf spot, recommended board, best way to paddle out, or any questions you might have. Don't be shy to ask him, that's his job and he wants to see you happy. Wetsuits are not necessary as the water temperature is around 28o C. Bring wax for tropical water.
Take turns in the line-up and respect the surfers who are already there waiting for a wave. NO SNEAKING!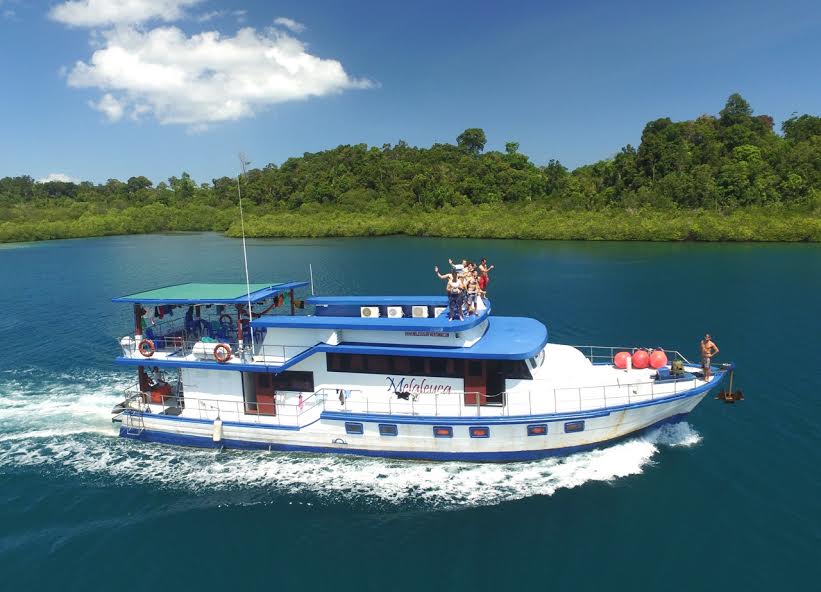 BOAT:
The boat for this trip is the MELALEUCA (photo above), a spacious and comfortable boat handled by a very experienced and friendly crew. She is 24m long, fully air-conditioned, with 6 cabins (up to 12 guests), a large salon with sofas and TV/DVD, dinning room, 2 WCs with hot showers, and a huge top-deck with shaded areas to relax and watch the surf.
The boat takes up to 12 guests. The "MELA" is powered by 2 Mitsubishi engines (320 hp each) making her a safe and reliable boat, with a cruising speed of 8-10 knots, and she's equipped with all the modern navigation and safety gear: Radar, GPS with chart-plotter (2 units), depth sounder, VHF radios, satellite phone, life-raft for 25 people, life-jackets, very-lights, EPIRB, extensive first-aid kit, etc. The guests can make use of SUP boards, kayak, fishing rods, snorkelling gear, and 2 tenders with outboard engines for surfing support, beach access, fishing, etc.
FOOD:
Breakfast is buffet-style and includes lots of fruit, cereals, home-made yogurt, fresh juices, bread/toasts, butter, cheese, jams, milk, tea, coffee, etc. Around 9 a.m. (after the first surf) our Chef prepares a "hot breakfast", on demand (pancakes, eggs, omelettes).
Lunch and dinner consist on fish, meat, chicken, shrimps, burgers, rice, pasta, eggs, french fries, pizza, lasagna, and some delicious Indonesian food such as fried rice with veggies and chicken (nasi goreng), fried noodles, etc.
In between meals the guests can have fruit, biscuits, peanuts, chocolates, snacks, a fresh coconut, etc., all at wish.
When we catch fish (tuna, trevally, mahi-mahi, wahoo, etc.) the Chef prepares sashimi, ceviche, etc.                                              Guests with specific dietary needs (vegetarian, gluten-free, food allergy, etc.) please let us know in advance about it. We are happy to provide appropriate food, individually.
The guests can have all non-alcoholic drinks they wish: mineral water, juices, isotonic drinks, sodas, milk, tea, coffee.
Each guest gets 30 FREE BEERS for the trip (average of 3 beers per day). If you wish to have more than your 30 free beers you can buy it in Padang before boarding, or at the islands (a bit more expensive); we can help you with that.
COMMUNICATIONS ON BOARD:
Cellular phone coverage is nowadays available in many of the Sumatran islands, so bring along your cell phones and make sure the roaming service is active before leaving your country. If you have an "unlocked" cell phone you can buy an Indonesian "SIM card" to make cheaper calls, and if there's good enough coverage you can also get internet service.
We have a satellite phone on board that works anywhere, even in the middle of the ocean. We use it for emergencies but the guests can make use of it. The calls cost 3 Euros/min.
HAZARDS:
Surfing and boat trips are activities implying some risks, so it's important that all the guests adopt a responsible behaviour during the trip, either surfing or while on board.
Although we've never heard of any serious incidents of the kind, be aware that in Indonesia there are some dangerous sea creatures such as jellyfish, sea snakes, poisonous fishes, etc.
Also be aware of sunburns! You will be surfing at the Equator so make intensive use of sunscreens, wear a T-shirt while surfing, and if you are not surfing avoid direct sun exposition between 11 a.m. and 3 p.m. Protect yourself from the Equatorial sun! And drink loads of liquids everyday (water, beer, etc.).
NOTE: The promoters of this trip do not take liability on accidents, injuries or death in the course of surfing or other activities during the trip, inside or outside the boat. That's why all guests need travel insurance for this boat trip.
TRAVEL INSURANCE:
It is mandatory for each guest to get a travel insurance for the period on board the MELALEUCA (18th – 29th September 2019).
We recommend that your insurance covers flight changes in case you need to go back home on a different date than originally booked. It is also advisable that your insurance covers trip cancelation for any unexpected reason (health issues, bad weather, etc.).
Take note of the exact procedures to claim your insurance (policy number; emergency contacts; what to do in case of need), and e-mail us that information.
TRAVEL DOCUMENTS:
To enter Indonesia your passport must have a minimum validity of 6 months from the date of arrival.
European, U.S.A. and Australian citizens don't need a Visa for stays in Indonesia of up to 30 days. Upon arrival at any Indonesian airport you can go straight to the passport control where you will get a visa-exemption stamp valid for a 30 days stay, for free. You don't even need to buy a Visa-on-arrival, usually offered just before the passport control.
You might be asked to present your return ticket.
PRICE:
10 people: 2530€ (max)
11 people: 2390€ (max)
These prices include 10 days surfing / 11 nights on board the MELALEUCA at the Mentawai or Telos islands, surf-guide,
transfers airport–boat–airport, all meals and snacks, all non-alcoholic drinks, 30 beers per guest, and the use of all facilities on board (tenders with outboard engines, SUP board, kayak, snorkelling gear, fishing rods, etc.).
Not Include: Air fares, travel insurance (mandatory), expenses outside the boat, and tips for the boat crew (usually ~50 Euros per guest) are not included in the trip's price.
In case we surf at the Mentawai islands each guest will have to pay the Mentawai Surfing Tax of 1 million Rupiahs (~65Euros). At the Telos islands such tax does NOT exists.
Flights from Europe to Padang are around 750€